The best tools with the best Ham Carving Master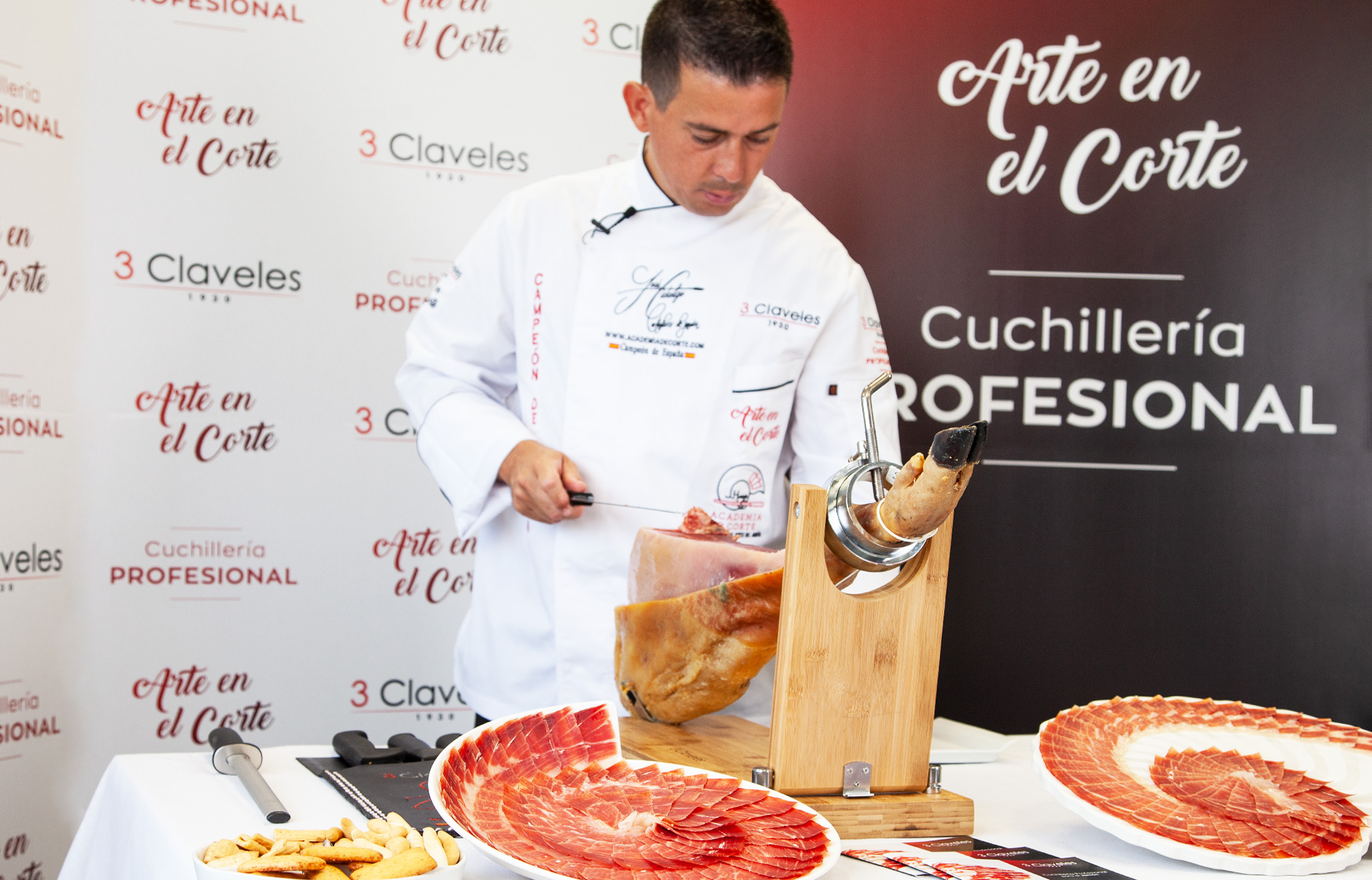 We wanted to know a little more about José Manuel Hidalgo, Spanish Champion cutting ham, who has relied on 3 Claveles knives for years.
What led you to become a ham carving master?
I started working in the hotel and catering business at a very young age, and among all the tasks involved in the job was ham cutting.
I remember seeing my colleague, the professional ham cutter, in one of the restaurants where I worked, and I realised that it was a specialised job, which differentiated you from the rest and was well valued and remunerated. And so I started cutting ham alternating with other tasks.
Not anyone could cut a product so exquisite and expensive, but little by little I began to learn. I gradually grew as a professional and moved into it more and more.
How has the profession evolved in recent years?
The profession has evolved significantly. More and more people are realising that professional ham slicing is an added value to the product. A correct cut improves the ham.
The ham cutter is the last in the chain. Let's not forget that it takes at least 4 to 6 years to produce a ham. For this gourmet product, in which so many people are involved, from the farmer, to the master ham-maker in the cellar, to the manufacturer, etc., the ham cutter must understand that he must do his job very well, respecting the product and offering it in the best possible presentation.
Professionalisation has helped to make ham a very tasty product when it is well cut, which the ultimate customer appreciates. In other words, everyone has realised that ham cut with a knife is much tastier.
What does working with 3 Claveles mean for your career?
3 Claveles has helped me a lot to grow as a professional.
I am very proud and satisfied that this prestigious company is relying on me to be an ambassador for its cutlery, which is extraordinary, and that it has chosen me to introduce their ham slicing utensils.
It has been an added value to my sector and has helped me in my profession.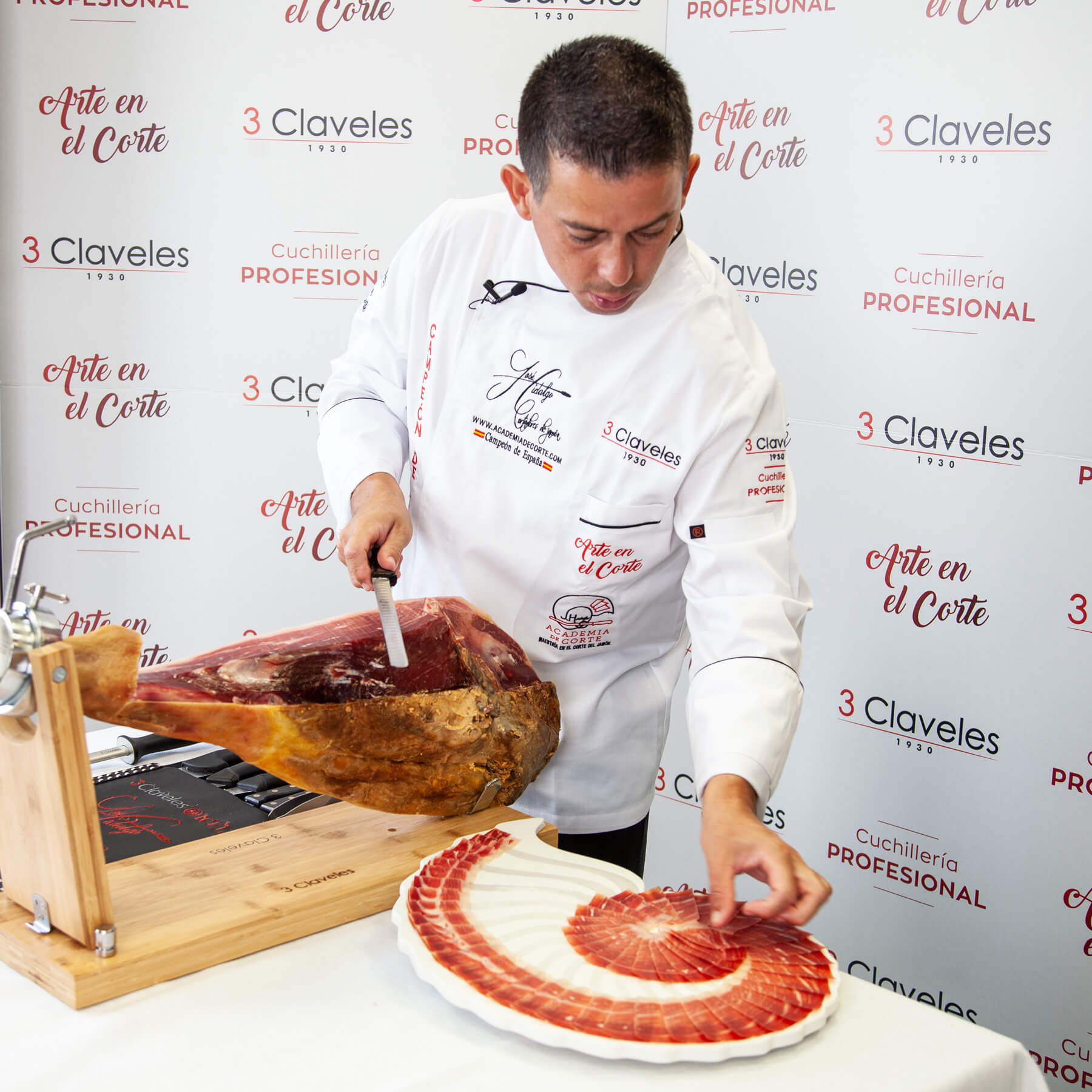 Can you tell us a funny story?
I have many stories. I have travelled all over the world, the only place I have not yet been is Africa.
I remember for example my first international trip, I went to Athens. I had checked my suitcase at the airport and when I arrived it was missing. The knives were missing and I had an event that evening!
I went to work worried because my suitcase had not arrived and I didn't have my knives. The cook at the restaurant told me not to worry because he would solve it for me, and he arrived with a pastry knife about 35-40 cm long with a super wide blade.
I was wondering, how am I going to cut ham with this knife?
But he told me it was the only one he had, because the cook didn't have any other appropiate knife. And that day I cut the ham with this model of knife, and I really had difficulty.
You become very methodical with your work tools, and as in all jobs it is important to have good ones. Even if you are a professional at your job you must have a good knife to perform the task easily.
That day I received a small knife to peel the ham and a large pastry knife to cut it, and I had a difficult time that afternoon, but I got the job done.
The next day my suitcase with the knives arrived, and I was tempted to arrange a party for the company that brought them to me! And I was able to work all week with my knives.
As I said, you become very methodical and you want to work with your own tools and not someone else's.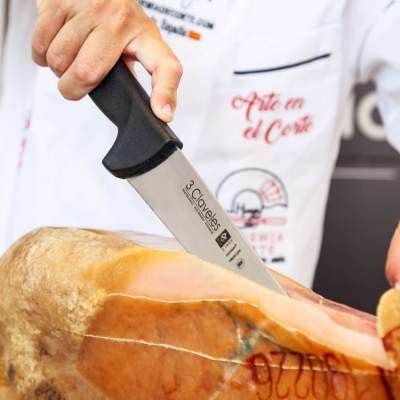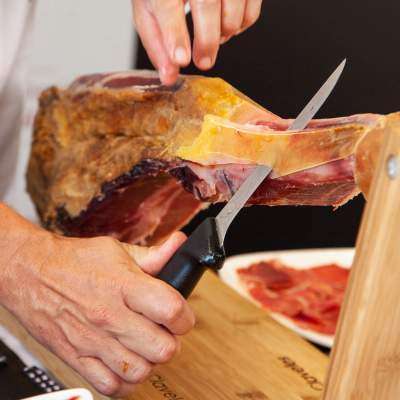 Why do you think there are not more women ham carving?
I really can't give you an answer. It is true that there are more and more women ham carving, and that it is a job that can be done by both men and women.
I encourage all women to join the profession. More and more women are joining the profession, and over time the number will increase. Women will be more and more present in the ham-cutting labour market.
How to recognize a good iberian ham?
In order to recognize a good ham, it is important to consider that the ham should have a thin cane and a stylised shape.
Iberian ham has a soft and smooth fat. Even when you insert your finger into the external fat it seems to penetrate, and these are indicators that it is a quality ham.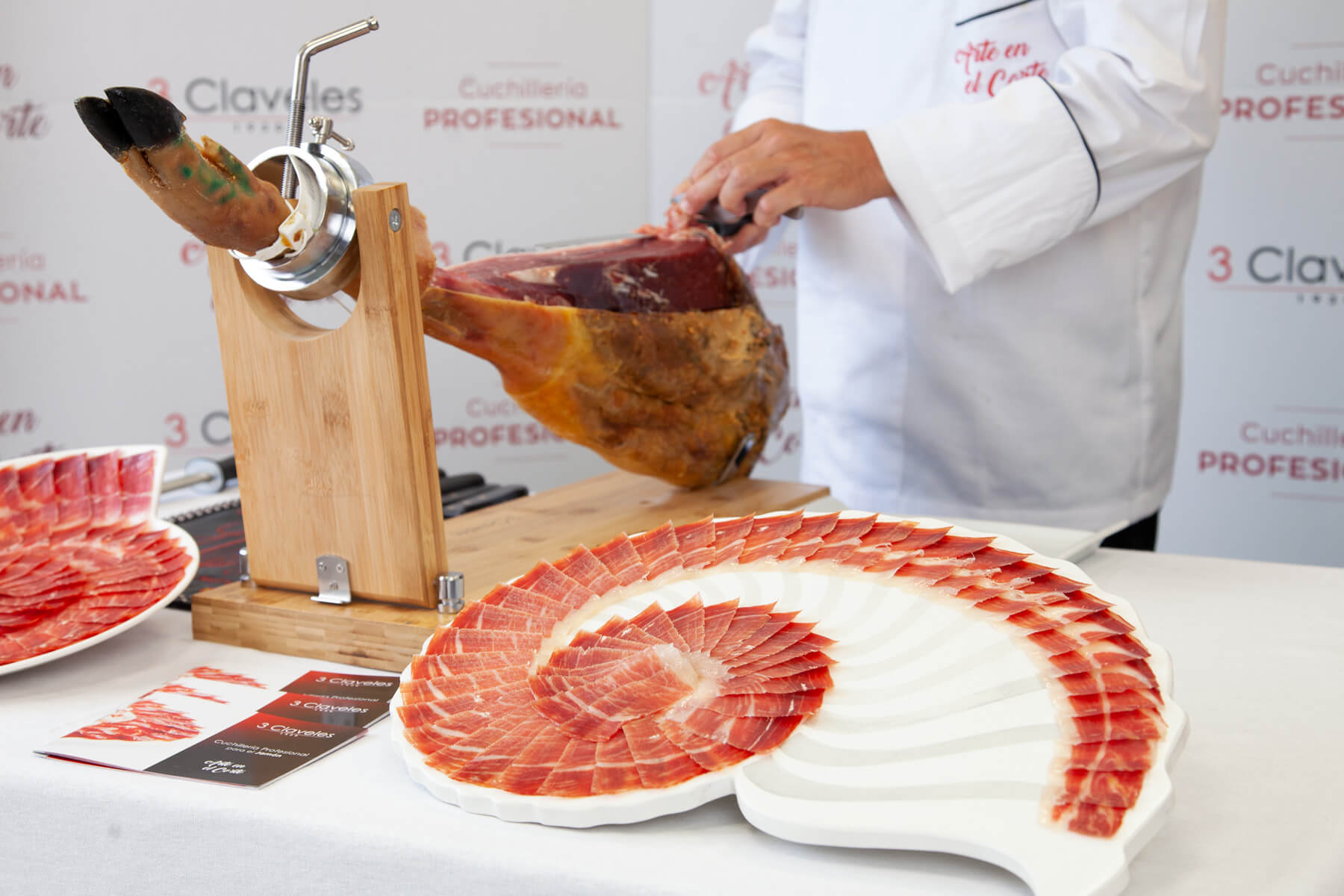 Are there differences between hams depending on the production area?
The most important and recommended when buying a ham is to make sure that it is a product with a Denomination of Origin certified by a Regulatory Council.
In Spain we have good hams everywhere, in Salamanca, Huelva, in the Pedroches Valley in Cordoba, in Extremadura..., good ham, like the wines, is produced in many places in Spain.
Depending on the area of production of the ham, we will have different sensory nuances or organoleptic properties in one ham or another.
For example, between Salamanca ham and Jabugo ham, Guijuelo ham or Salamanca ham may be sweeter, even more unctuous, softer on the palate. On the other hand, Jabugo ham is more intense.
In the end, it is all about finding the taste that suits you. When it comes to saying which one is better, a ham from Salamanca can be just as good as a ham from Jabugo, Extremadura or Valle de los Pedroches.
I recommend always buying products with a Denomination of Origin, a guarantee of quality and curing.